Do you know what a wi-fi adapter does and what its task is? If by any chance you are not sure, we will explain it to you in this article.
A wireless adapter is a type of electronic device, thanks to which computers can connect to the internet (to your router/modem) without a wired connection. We can also say that they are a combination of a radio receiver and a radio transmitter.
How Do They Work?
The wi-fi adapter transmits data to the routers via radio waves, and the routers then send them on to broadband modems, also to internal networks. Today's modern devices, notebooks come with integrated wireless adapters, while this is not the case with desktop computers, so you will have to perform the installation later. This device really has many advantages, and one of them is certainly its favorable price. 
In a situation where you want to upgrade your internet – more precisely to increase its speed when transferring data, it is very important to know that if you have an older generation computer, it is likely that you won't notice any speed improvements. In this case, you can either buy a new computer or a wi-fi adapter, which is definitely a much cheaper option.
Types of Wi-Fi Adapters
There are several types of wi-fi adapters that you can find. Here are some of them.
Integrated Adapters
This type of integrated adapter is found in the newer generation of laptops (those made in the last ten years), then in smart devices – mobile phones and tablets. They are characterized by their ease of use, primarily because they do not require any additional installation, but it should be noted that they are weaker signal transmitters than external adapters.
Integrated wi-fi adapter for laptop (Intel Wireless-AC 9560)
Peripheral Component Adapters (PCIe)
Wireless network adapters with a PCI interface are mostly used on desktops. This adapter is in the form of a card that is placed on one of the slots on the motherboard (we recommend that you check if you have a free PCI slot before purchasing). The installation process itself is not complicated at all. It has an external antenna (or antennas) that allows better range. There is also a type of MINI PCI used in laptops.
PCIe wi-fi adapter (TP-Link Archer T5E)
USB Adapters
Simplicity is the first feature we would highlight with this type of adapter. To use it, of course, you need to have a free USB port (we recommend using the USB ports located on the back of the computer). Its software must be installed before use. These adapters are also known as dongles. They look like USB flash drives. Easy portability is one of their main characteristics.
USB PC wi-fi adapters
Regardless of their dimensions, every USB wi-fi adapter, including the smallest ones, has an antenna in its housing on the side opposite to the USB connector. It is the antenna that provides data exchange in the form of radio waves.
Recommended reading:
Before using it, it is necessary to install the software (the software or driver only needs to be installed the first time you use it). When choosing a USB WIFI adapter, it is recommended that you check compatibility with your operating system.
Security and Protection
When we talk about adapters it is necessary to mention their range. The range, depending on the "strength" of the adapter, varies up to several hundred meters, so that everyone in that area with the adapter installed on their device can receive a signal from your computer and eventually access your data.
In order to avoid such situations, the signal should be protected with the help of ciphers. There are several protocols that protect data transmission by having passwords that aim to protect wireless networks, the best known are WPA and WPA2, and the recommendation is WPA2 which is very secure.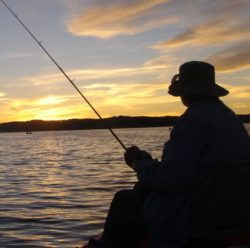 Hey, I'm David. I've been working as a wireless network engineer and a network administrator for 15 years. During my studies, I also worked as an ISP field technician – that's when I met Jeremy. 
I hold a bachelor's degree in network engineering and a master's degree in computer science and engineering. I'm also a Cisco-certified service provider. 
In my professional career, I worked for router/modem manufacturers and internet providers. I like to think that I'm good at explaining network-related issues in simple terms. That's exactly what I'm doing on this website – I'm making simple and easy-to-follow guides on how to install, set up, and troubleshoot your networking hardware. I also review new network equipment – modems, gateways, switches, routers, extenders, mesh systems, cables, etc. 
My goal is to help regular users with their everyday network issues, educate them, and make them less scared of their equipment. In my articles, you can find tips on what to look for when buying new networking hardware, and how to adjust your network settings to get the most out of your wi-fi. 
Since my work is closely related to computers, servers, and other network equipment, I like to spend most of my spare time outdoors. When I want to blow off some steam, I like to ride my bike. I also love hiking and swimming. When I need to calm down and clear my mind, my go-to activity is fishing.