Are you a frequent business traveler? What is the most important amenity you're looking for in a hotel or an airline? It's safe to assume that having free Wi-Fi access is at least one of your top three requirements. But, why is Wi-Fi essential for business trips? What do the numbers tell us? Let's explore all the things that show the importance of Wi-Fi for business travelers!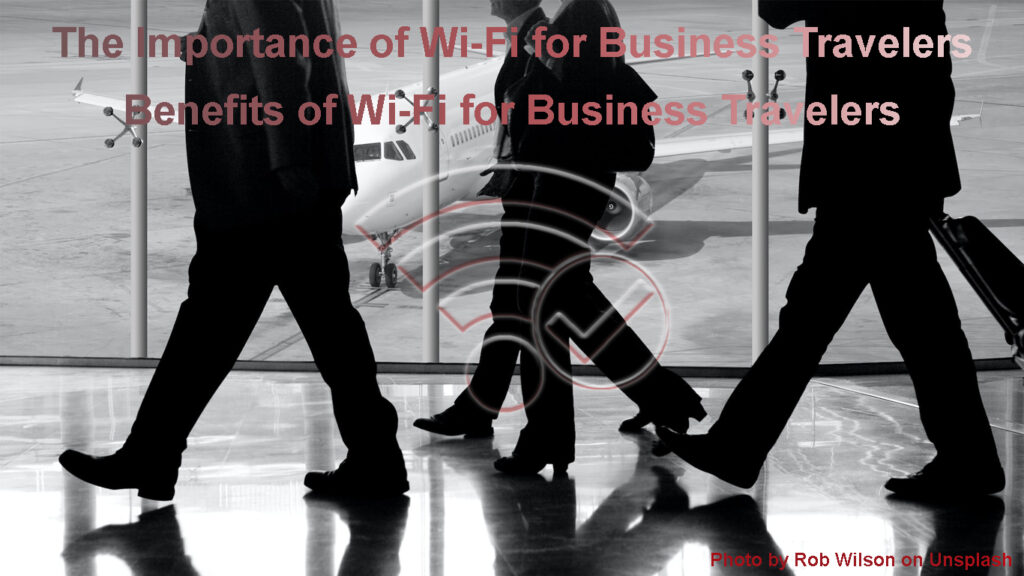 The Importance of Wi-Fi for Business Travelers – What Do the Numbers Say?
Before we get into the reasons why Wi-Fi is important in business trips, we need to understand just how relevant Wi-Fi is for business travelers. So, we did some research and prepared essential numbers that showcase how important internet access is for regular business travelers.
According to research conducted by Statista in 2017, 75% of US business travelers highlighted that free internet access is very important to them. Furthermore, about 21% of the survey participants claimed that internet access is somewhat important. Free Wi-Fi is a priority for business travelers, as they think it's more relevant than, for instance, proximity to transportation means and shops and a comfortable chair and desk.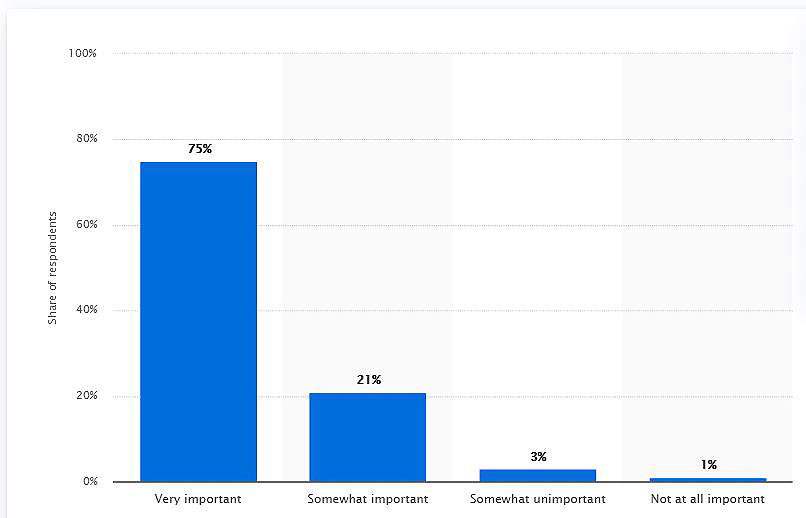 Source – Statista
What's more, another Statista study showed that 55% of American business travelers claimed that the availability of free Wi-Fi affected their accommodation decisions. Thus, many people opt out of staying at a hotel that doesn't offer free Wi-Fi, regardless of its other amenities.
Business travelers in the United States value Wi-Fi availability in both their accommodations and flights. A study from 2014 tells us that 26% of small business employees reported a lack of Wi-Fi in accommodations and flights as the number one complaint when traveling for business.
A Statista survey from 2015 studied the preferred hotel amenities by business travelers around the world. It showcased that nearly half of the respondents believe that free Wi-Fi is the most important factor in choosing accommodation. Free Wi-Fi was actually the number one amenity business travelers look for and it's even more important than breakfast.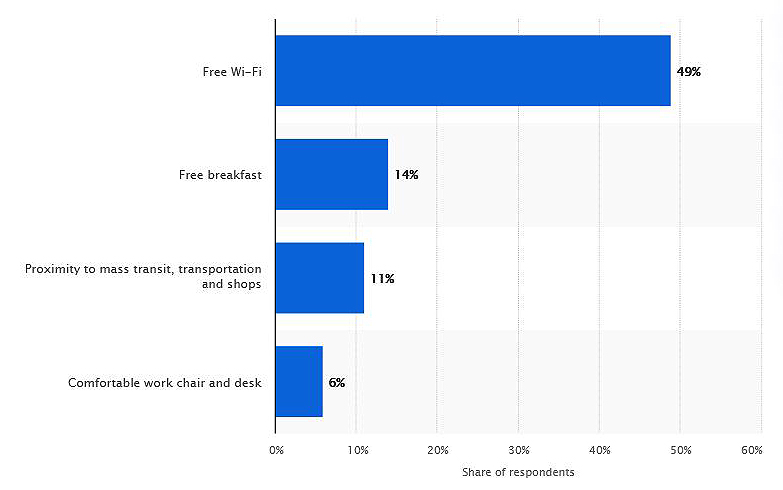 Source – Statista
Why is Wi-Fi Important for Business Travelers?
By now, you are aware that a wireless internet connection is essential for people who travel for business purposes. But, why is Wi-Fi important? Here are the main reasons why you need to make sure that you have strong internet access on your business trip!
1. Wi-Fi Provides an Easier Communication
Good communication channels are crucial for everyday life. Their importance is even more apparent when you're on a business trip. With Wi-Fi, you can easily get in touch with your colleagues, managers, and clients and inform them of essential changes in the schedule or meetings.
The ease of communication that a wireless network connection offers is undeniable. If you're traveling abroad, roaming charges and limits can prevent you from contacting people using traditional methods of communication. What's more, you don't know how good your cell signal will be in various locations. But, if there is Wi-Fi in a hotel you're staying in, you won't have to worry about the signal or the roaming costs. You can simply use the power of the internet to get in touch with anyone you want to contact easily and quickly.
The Best Ways to Get Online when Traveling
2. Wi-Fi is Essential for Conducting Business
The Internet is extremely important for the majority of businesses today. With Wi-Fi, you'll be able to access relevant documents, online calendars, emails, and agendas no matter where you are. In addition, you can easily get any piece of information you need online within a few seconds. Thus, opting for accommodation or transport that has a stable Wi-Fi connection available is vital for your business.
It's not surprising that businesses need the Internet that much. It allows you to stay updated on any decisions made and changes established. That way, you'll never be out of the loop on important and less important activities of your company, even if you are hundreds of miles away.
3. Wi-Fi is Cheaper than Its Popular Alternatives
The extra costs are something to keep in mind even when you're not traveling for business. In most hotels, Wi-Fi comes for free and you'll likely have a good enough signal in your room. On the other hand, your mobile data can be costly, especially if you use it for more extensive online activities. Wi-Fi in airplanes does not come for free yet, but it's the most reliable choice for an undisturbed internet experience.
Wi-Fi is even more useful when you're traveling abroad. Your mobile data will likely be too expensive to use in roaming. Furthermore, buying a foreign SIM card may not be a simple process, depending on the country you're visiting. So, having a good Wi-Fi connection instead will allow you to perform any online activity you desire and it's usually free of charge!
4. Wi-Fi Ensures a Hassle-Free Traveling Experience
A Wi-Fi network connection is very useful when you travel. You can easily contact the hotel you're staying in. Moreover, you'll be able to organize your trip based on the information you receive online.
Scheduling your transportation, checking in online, and tracking relevant changes in the place you'll be staying in are just some of the things that are made easier when you have a solid internet connection. All of these aspects are even more important when you're traveling for business. That's because unpredictability is the last thing you need when you have important tasks to handle.
With Wi-Fi, you can easily verify your flight status and delays, download boarding passes, order food, and even check the weather at your destination. That way, you will be prepared for any circumstances and avoid being late for meetings or too tired to be productive.
5. Wi-Fi Makes Your Trip More Fun
You are traveling for business, but that doesn't mean you can't have any fun while on your trip! You'll likely have some free time in between meetings. That means an opportunity to explore the location you're staying in.
There are different ways to find out what is worth visiting in the area such as checking out flyers and advertisements. But, wouldn't it be better to get recommendations straight from locals? Luckily, the internet is there to help us explore hidden gems in every location you go to, recommended by the local population.
With Wi-Fi, you can easily schedule and organize your entire trip. With online tickets, reservations, and up-to-date information about the crowds, you'll avoid wasting your precious time. As a result, you'll have an exhilarating business trip filled with fun activities that, in the end, make you much more productive!
Wi-Fi for Business Travelers – Tips for Staying Safe when Using Free Wi-Fi
Final Thoughts
Numbers show that having a solid Wi-Fi connection when traveling for business is essential for a hassle-free trip. The Internet is part of our everyday lives. It becomes even more important when we have to conduct business in a different location.
Business travelers can communicate with coworkers and clients easily without any extra roaming charges or unpredictable service signals. In addition, you can stay up to date with any changes or decisions made in your company.
Lastly, you can have a carefree trip as the internet will allow you to schedule things, organize fun activities, and make adjustments quickly. All of these aspects make having a stable Wi-Fi connection on a business trip important and necessary to ensure productivity and a stressful traveling experience.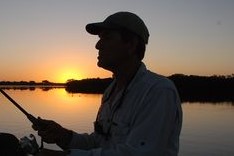 Hey, I'm Jeremy Clifford. I hold a bachelor's degree in information systems, and I'm a certified network specialist. I worked for several internet providers in LA, San Francisco, Sacramento, and Seattle over the past 21 years.
I worked as a customer service operator, field technician, network engineer, and network specialist. During my career in networking, I've come across numerous modems, gateways, routers, and other networking hardware. I've installed network equipment, fixed it, designed and administrated networks, etc.
Networking is my passion, and I'm eager to share everything I know with you. On this website, you can read my modem and router reviews, as well as various how-to guides designed to help you solve your network problems. I want to liberate you from the fear that most users feel when they have to deal with modem and router settings.
My favorite free-time activities are gaming, movie-watching, and cooking. I also enjoy fishing, although I'm not good at it. What I'm good at is annoying David when we are fishing together. Apparently, you're not supposed to talk or laugh while fishing – it scares the fishes.