Brief Outline
The article below covers the Windstream router login steps using the default IP address 192.168.254.254. As a Windstream router user, you need to know how to login to your router and secure your wireless network by changing some of the default settings, setup port forwarding and so on.
Before You Login to Your Windstream Router
To make sure the Windstream router login steps go as planned check the following.
Is the Windstream router properly connected?
Do you know the default router login details (default IP, username and password)?
Is the device you are trying to login from connected to the network?
What Is the Windstream Default Router IP?
All Windstream routers can be accessed using the default IP http://192.168.254.254
In case the login page doesn't show up when you enter this IP in the browser's URL It is recommended to check whether 192.168.254.254 is the correct default IP. You can do it on your own by following our guide: Find the Default Router IP: A Step-by-Step Guide
What Is the Username and Password for Windstream Router?
Depending on the router you have got from Windstream the default login details ca be different. For example:
Sagem 4320 and Sagem 1704N
These routers use "admin" as a username and as a password.
Sagem 2705
The default username in this router is: admin
The password is printed on a label which can be found on the back of the router and is four characters long.
Actiontec-T3200
The default username in this router is: admin
The password is printed on a label which can be found on the side of the router and is unique for every router.
*Just like other username and passwords the Windstream router login details are case-sensitive.
How Do I Log Into My Windstream Router?
Now, if you have taken note of the default IP, username and password you can follow these steps to login to your Windstream router.
STEP 1: Connect to the network
The first step whenever you try to login to a router is to connect to the network it is associated with. Otherwise you won't be able to login. You can do this either using a network cable which is recommended, or you can connect using the wireless connection.
STEP 2: Visit http://192.168.254.254 using your browser
Any browser you already have installed on your device will do the job. Simply launch the browser, type 192.168.254.254 in the URL bar or click on this link http://192.168.254.254. The Windstream login page will appear if the IP is correct.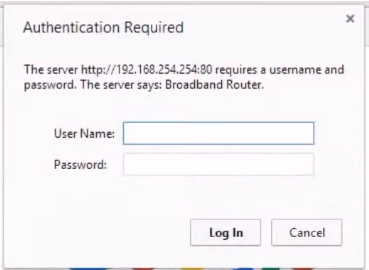 STEP 3: Enter the Windstream login details
Now type the default Windstream login details in the required fields and press Enter or Login.
And that's it!
You can check the Windstream router settings now and make all the necessary changes to secure your network or change whatever you need.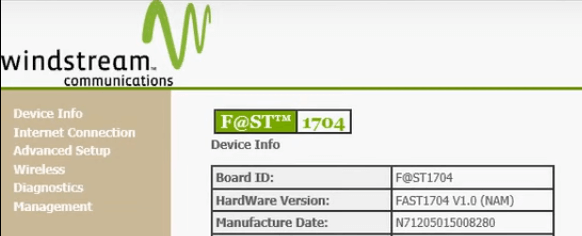 What to Do If the Windstream Login or Settings Page Doesn't Show Up?
Pease note that in case the default login details don't take you to the Windstream router settings page you have to check the following:
Check whether you are connected to the network
Check all the cables and wires
Check whether 192.168.254.254 is the default router IP address
Check whether you have typed the IP or login details correctly.
Check the label on the router for the correct login details
In case you don't have the default login username and password or you have forgotten them you will have to hard-reset your router.
How to Hard-Reset Your Windstream Router
When we say "hard-reset" we mean resetting the router back to factory settings. This is the last step you should take if the default username and password don't work, because it simply erases all the changes you have made previously in the router settings. This includes the Network name, wireless password, and anything ese you have changed. After the hard-reset you will have to set up the router from scratch and also update the wireless password to all devices previously connected to your Wi-Fi network.
Based on the official Windstream guides the factory reset steps are quite simple:
Locate the reset button at the back of the router. It is normally hidden and can't be easily reached in order to prevent accidental resetting. To reach the button you will need a pen or a paperclip.
Take the pen or paperclip, put it into the hole, press and hold until the router lights flash. Keep the button pressed for at least three seconds.
When the router lights stabilize you can try to login to your Windstream router with the default login details again.
Final Words
We hope you haven't had any problems to login to your Windstream router and you are checking all the setting options you can modify. In case you plan to make some changes in the router settings, it would be wise to note them down if you haven't done it before. Also, keep the Windstream router login details written down somewhere just in case you need to login again.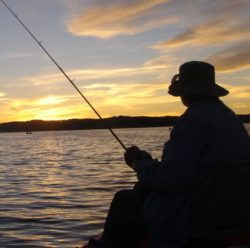 Hey, I'm David. I've been working as a wireless network engineer and a network administrator for 15 years. During my studies, I also worked as an ISP field technician – that's when I met Jeremy. 
I hold a bachelor's degree in network engineering and a master's degree in computer science and engineering. I'm also a Cisco-certified service provider. 
In my professional career, I worked for router/modem manufacturers and internet providers. I like to think that I'm good at explaining network-related issues in simple terms. That's exactly what I'm doing on this website – I'm making simple and easy-to-follow guides on how to install, set up, and troubleshoot your networking hardware. I also review new network equipment – modems, gateways, switches, routers, extenders, mesh systems, cables, etc. 
My goal is to help regular users with their everyday network issues, educate them, and make them less scared of their equipment. In my articles, you can find tips on what to look for when buying new networking hardware, and how to adjust your network settings to get the most out of your wi-fi. 
Since my work is closely related to computers, servers, and other network equipment, I like to spend most of my spare time outdoors. When I want to blow off some steam, I like to ride my bike. I also love hiking and swimming. When I need to calm down and clear my mind, my go-to activity is fishing.