Just like other wireless routers, the Xfinity routers have a set of status LED lights that indicate the activity and the status of your network and the connection. Basically, these LED lights are a sure sign to tell you what's going on at the moment.
Depending on the activity or the problem you are experiencing with your router at the moment, your Xfinity router will blink green, blue, orange, and even white. This article will go through the Xfinity router blinking white problem and try to explain what this light means and how you can fix it.
So, let's start!
Xfinity Router Blinking White: What Does it mean?
Normally, a solid white light on your Xfinity router will indicate that the router is connected and that the internet connection is stable. However, if it's blinking it may indicate that the router has problems connecting to the internet or that your service hasn't been activated yet.
Whatever is causing the white blinking light there is always a solution. Here are the things you can do to fix this issue and continue using your internet as before.
How to fix the Xfinity Router Blinking White?
Service Provider Issues
Another reason for the white blinking light on your Xfinity router is service interruption. Maybe your ISP is experiencing a service outage in your area because of bad weather or scheduled maintenance. Luckily you can check that via the Xfinity App or by getting in touch with the customer support and asking what's the problem.
In case a service outage is causing the problem, all you need to do is to be patient and wait a little until your ISP fixes the problem in their side.
Xfinity Activation Process Not Completed
One of the reasons for the Xfinity router flashing white light can be an incomplete activation process. All you have to do is to complete the activation process and the blinking white light should be fixed.
Follow these steps to finish the activation process:
First download and install the Xfinity app on your smartphone. There are versions for both iOS and Android users.
Please note that you can use the Getting Started instructions if you have problems downloading the app or something similar. Another way to complete the activation process is via the register.xfinity.com/activate page.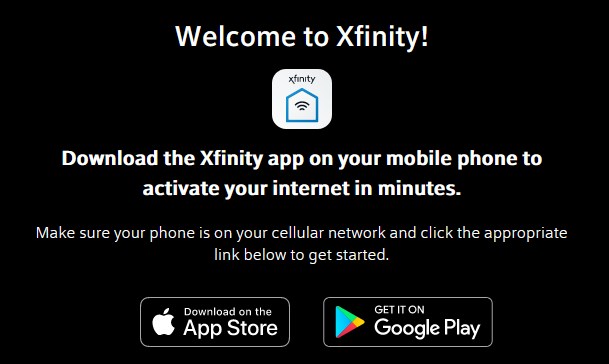 Now use your Xfinity ID and password to login. If you don't have these login details then you will need to complete the registration process first and then login.
On the bottom or the side of your Xfinity router, there is a QR code. The Xfinity app will ask you to scan this QR code in order to identify the gateway. In case you have problems scanning the QR code, you can manually enter the CM MAC code (12 digits) printed next to the QR code on the router.
After that the app will guide you through the rest of the setup process by giving tips and instructions about the best router position and how to connect the cables. You will be also prompted to set up a network name and password.
After this point you need to wait a little until your Xfinity router gets activated. After the activation process completes you will be reminded of the wireless network name and Wi-Fi password. When that happens, you need to Confirm and Finish up. Your Xfinity account is activated now.
Please note that it is possible for the router to restart during this process. You have nothing to worry about if that happens. The final result is seeing a solid white light on your router and fast and stable connection.
However, if the incomplete activation wasn't the main cause for the white blinking light try the following fixes.
Power cycle (Restart) Your Xfinity Router
It is just unbelievable to know how many networking problems a simple restart can solve. Having this in mind we recommend trying this primarily because it is a highly effective quick fix solution and it doesn't require any technical knowledge from the user.
To do this manually, all you need to do is to unplug the power cord from the Xfinity Wi-Fi router. Wait around 60 seconds and then plug the power cable back to the router.
Wait for the router to boot up and you should see a solid white light now. However, if this hasn't solved the problem, continue with the recommended steps.
There are also other ways to restart your Xfinity router like using the Xfinity app, the Xfinity account or by logging into the Xfinity admin dashboard. However, we are most confident in the manual method.
Factory Reset Your Xfinity Router
Factory reset is not the same as the Restart we have mentioned earlier. The factory reset will bring the Xfinity router back to the default settings and you need to know that you will need to set up the router and your home network from beginning after the factory reset completes.
It is one of the most frequently used solutions for home network issues and we usually recommend it as a last solution mainly because all the settings made earlier will be erased when you do that.
In order to reset the Xfinity router to factory settings follow these steps:
Take a small object like a pen or a paper clip.
Find the Reset button. It is usually located at the back of the router, hidden inside a small hole in the router to prevent accidentally resetting the router.
Press the reset button with the small object and hold it for 30 seconds until all the LED lights on the router turn off.
When the router boots up again it will be reset to factory settings and you will be asked to go through the activation process again and set up a custom network name and password. If you choose to set up a new network name or password different from the one you had before, you will need to connect your devices again.
Contact the Xfinity Customer Support
In case any of the solutions given above didn't help and you still see your Xfinity router blinking white light it is time to contact the Xfinity Support. When you contact them, you can tell them what solutions you have already tried in order to make the troubleshooting process faster.
Final Words
Now you know that the Xfinity router blinking white light indicates that there is a problem with your internet connection primarily because of an unfinished activation process and for some other reasons.
As a final result we want to see a solid white light on our router which indicates that it is working properly.
However, if nothing from the above worked and even the customer support couldn't help we highly recommend you reading our article about What Modems Are Compatible With Comcast Xfinity?
A new modem will definitely fix the issue you are having at the moment.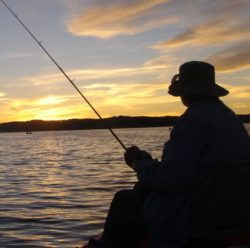 Hey, I'm David. I've been working as a wireless network engineer and a network administrator for 15 years. During my studies, I also worked as an ISP field technician – that's when I met Jeremy. 
I hold a bachelor's degree in network engineering and a master's degree in computer science and engineering. I'm also a Cisco-certified service provider. 
In my professional career, I worked for router/modem manufacturers and internet providers. I like to think that I'm good at explaining network-related issues in simple terms. That's exactly what I'm doing on this website – I'm making simple and easy-to-follow guides on how to install, set up, and troubleshoot your networking hardware. I also review new network equipment – modems, gateways, switches, routers, extenders, mesh systems, cables, etc. 
My goal is to help regular users with their everyday network issues, educate them, and make them less scared of their equipment. In my articles, you can find tips on what to look for when buying new networking hardware, and how to adjust your network settings to get the most out of your wi-fi. 
Since my work is closely related to computers, servers, and other network equipment, I like to spend most of my spare time outdoors. When I want to blow off some steam, I like to ride my bike. I also love hiking and swimming. When I need to calm down and clear my mind, my go-to activity is fishing.