Are you unable to access your Xfinity services? There are a few common reasons why Xfinity is down. Today, we're exploring all of them and giving you some tips on how to easily get your services back!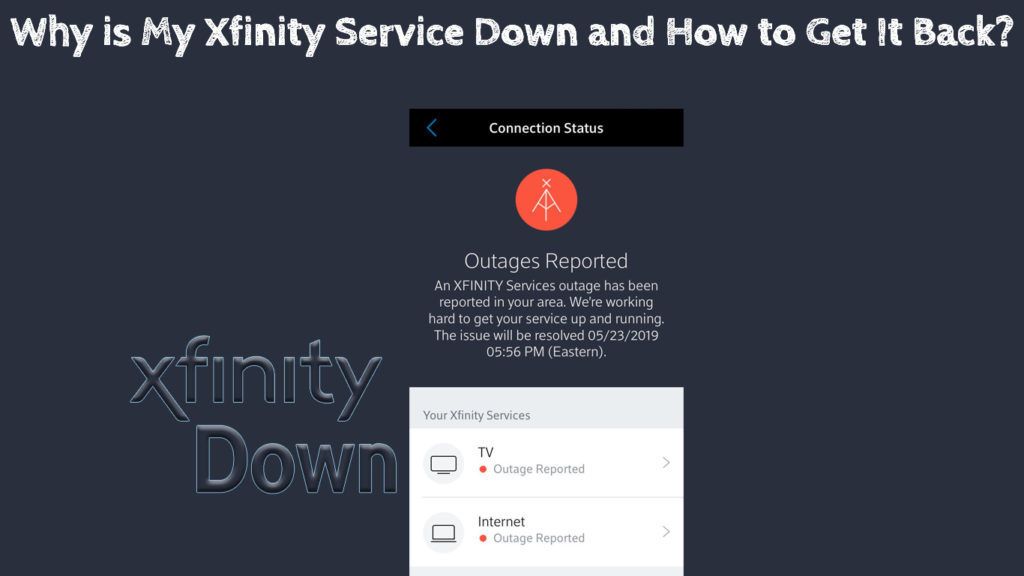 Is There an Outage in Your Area?
No matter if it's due to regular maintenance or a malfunction, an outage can be annoying. Luckily, you'll easily be able to check what is happening around you.
Xfinity offers a few methods of checking if there is an outage in your area. Any of them should provide you with enough info on what is actually happening near you and when can you expect to get your services back.
1. Using the Comcast Outage Map
The Comcast Outage Map is available within the Status Center on the official Xfinity website. The Status Center allows you to log in or type your address and check for outages near you.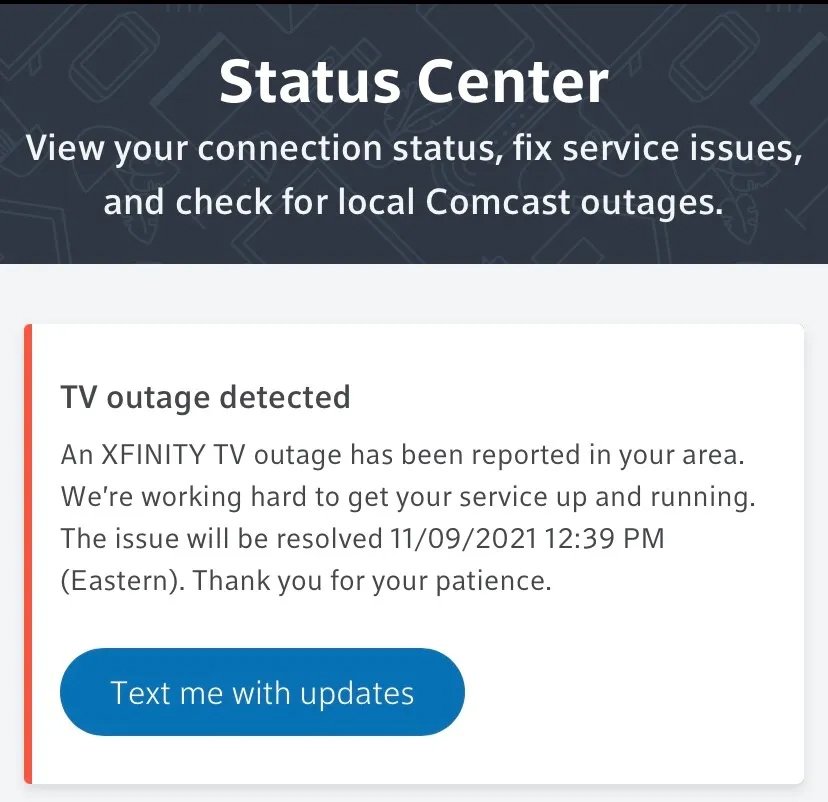 The downside of this map is that you are only allowed to view your service address and not the addresses of other customers. Still, the map will showcase any service issues near you, not just in your street. Thus, you will be able to predict a potential outage due to regular maintenance on your address.
How to Use the Comcast Outage Map
This map is pretty easy to use. You'll see an icon in your area that will give you the info on possible outages around you. If the icon is a green circle with a picture of a house in it, that means that there are no service outages at your address. On the other hand, a red circle with a picture of a house indicates that there is a service outage at your address. 
In case a red circle has an exclamation mark on it, you should know that there are outages near you, but not at your address. Therefore, even though you can't be sure, you can expect a potential outage at your address as well. The last sign you can see on the map is a red border. The red border informs you that some users reported an outage in that particular area. There could be an outage on your address as well, but it's not a certain indication.
When you click on an icon, you will be able to get all the info on the outage. On the left, you'll find the type of Xfinity services that are out as well as the outage type. In addition, Comcast will inform you how many houses were affected by the outage and the time the company expects the issue to be solved.
2. Visiting the Status Center Using Your Xfinity Account
Another way to check for potential outages near you is to log into your Xfinity account using your credentials. Once you do, you should find the Overview menu and go to the Services option. There, you can click on the Status Center section. You will then be redirected to a page where you can get information about the outages on your address.
You can also visit the Status Center by clicking on the Devices tab and going to Common Solutions. You'll find this tab at the top of the My Account page.
When you get to the Status Center, a banner will appear at the top of the page informing you about the outages in your area. When there is not an outage near you, you will be able to Run Diagnostic Check to verify whether your equipment is working properly. 
In case there is an outage, but it only impacts one of the services you're using, you'll see a red status next to that service. You won't have to contact Xfinity, as the company is already aware of the issue and is working on fixing it. If you suspect that there is an issue Xfinity does not know about, you can always report the problem through the Status Center.
3. Receiving a Text Message
You can sign up for text message alerts to receive the info on outages from Comcast. You can do that by registering your number in the Comcast Alerts section. If you did not register for alerts but still want to receive the info on your current situation, you can send a text to Comcast. You'll do that by texting OUT to 266278.
What's more, you can receive an update on your Xfinity services during an outage. To do that, you'll have to log into your account. Then, you should click on Services and then Status Center. When you see a red icon next to a service, you can choose the Text me when it's resolved option. You will then be able to type your phone number and choose Get a Text.
4. Downloading the App
The official Xfinity app also gives you the info on outages in your area. The app may be the easiest method of informing yourself about the outages. That's because you'll see a banner letting you know there is an outage on your address as soon as you log in to the app.
What Can You Do During an Outage?
To put it simply, there isn't much you can do in case of an outage. If your internet service is the only one that is down, you can always find Xfinity Wi-Fi hotspots around you and connect to them.
Once the service outage passes, you can check whether you are eligible for a credit to your account. You could contact Xfinity customer support to verify if you can receive credit for the outage. In case you are, the credit will be automatically applied to your account.
Other Reasons Why Your Xfinity Service is Down
1. Something is Wrong with the External Connections
Cables frequently get loose. That is why you should always double-check whether everything is securely plugged in. Moreover, you should verify if the electrical outlet for your Xfinity equipment is working properly. Cords can get damaged over time. Thus, regularly checking their state and replacing the old ones is a must for every user.
2. You Forgot to Pay Your Bills
Unpaid bills will certainly lead to Xfinity turning off your services. Moreover, late payments can also lead to an interruption of service. Therefore, you should check whether you forgot to pay your dues or did so too late. You could also contact Xfinity customer support if you are not sure whether you paid for everything on time.
3. You Need to Restart Your Devices
A simple restart can sometimes go a long way! So, your next step will be restarting your TV box and the modem to try to get your connection back. To do that, you should unplug the devices from the power source. Then, you could wait a couple of minutes and plug everything back in. You should give your devices a minute or two before using them again.
Final Thoughts
There are many reasons why your Xfinity service is down. The most common one is an outage in your area. Luckily, you can easily get info on service outages at your address.
In addition, loose or damaged cords, unpaid bills, and modem issues are other common reasons why you are unable to access Xfinity services. Regardless of the actual problem, you should be able to get your services back in no time. If not, you may have to contact Xfinity customer support to report the issue.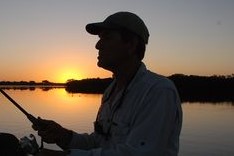 Hey, I'm Jeremy Clifford. I hold a bachelor's degree in information systems, and I'm a certified network specialist. I worked for several internet providers in LA, San Francisco, Sacramento, and Seattle over the past 21 years.
I worked as a customer service operator, field technician, network engineer, and network specialist. During my career in networking, I've come across numerous modems, gateways, routers, and other networking hardware. I've installed network equipment, fixed it, designed and administrated networks, etc.
Networking is my passion, and I'm eager to share everything I know with you. On this website, you can read my modem and router reviews, as well as various how-to guides designed to help you solve your network problems. I want to liberate you from the fear that most users feel when they have to deal with modem and router settings.
My favorite free-time activities are gaming, movie-watching, and cooking. I also enjoy fishing, although I'm not good at it. What I'm good at is annoying David when we are fishing together. Apparently, you're not supposed to talk or laugh while fishing – it scares the fishes.