Wi-Fi is a great way to connect to the internet, but it can be a security risk if you're not careful. There are several ways of accessing Wi-Fi that are primarily meant to enhance security as well as control traffic. One of these ways is by using a captive portal.
Most Wi-Fi networks that send you a "Sign in to Wi-Fi network." notification use a captive portal that is always an extra layer of security. The extra layer of security is used to protect the network by only allowing IP-based filtering.
After logging in with your credentials (or 3rd party authentication), your device will be assigned a session that will allow you to use the network.
The amount of time until the assigned session times out after logging in is adjustable, depending on the network's needs. The session can range from 1 hour to 24 hours.
So, if you disconnect from the Wi-Fi router and then reconnect back after the assigned session time limit period, the Wi-Fi router will not have information about your device.
This implies that when you try to connect to a Wi-Fi network again, the Wi-Fi network will request that you sign in.
However, there are instances when this security feature can be annoying, especially when you frequently connect and disconnect from different Wi-Fi networks.
If you want to disable the "Sign in to Wi-Fi network" notification on your mobile device, you can do so by trying out any of the strategies below.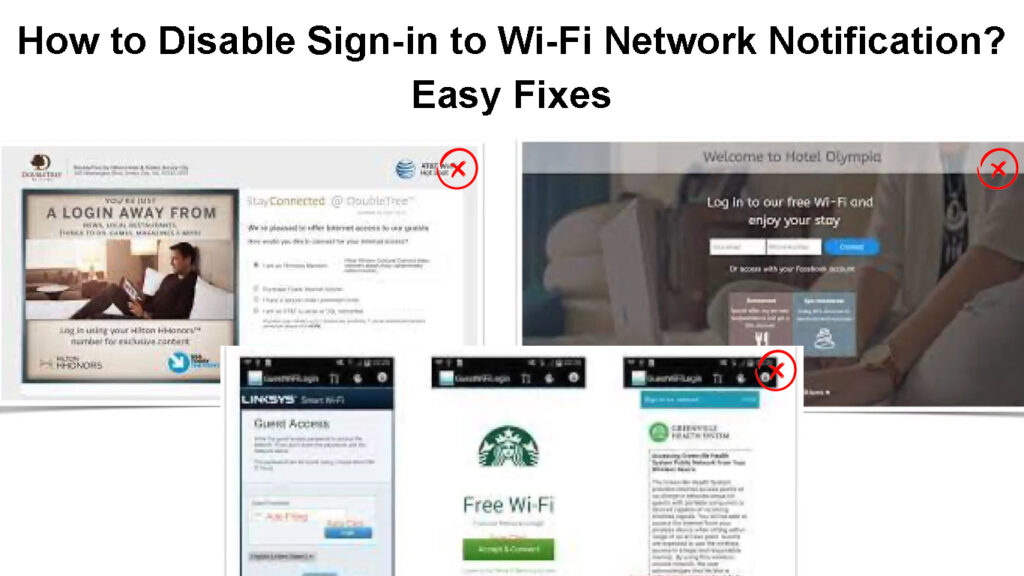 Try Blocking Notifications on Your Mobile Device
The "Sign in to Wi-Fi network" information is often displayed as a notification. The first step you should make is to block notifications on your mobile device. This can be done in different ways, depending on your mobile device's operating system.
For example, if you are using an Android phone, you can long-press the notification, which prompts the App info option to open. From the App info page, select the "Force stop" option, then click okay to confirm.
If you're using an iPhone, you can go to Settings > Notifications > Messages and disable "Allow Notifications."
See the attached video below on how to Block Wi-Fi notifications on your Phone.
How to Block Wi-Fi Notifications on an Android Phone
Forget the Wi-Fi Network on Your Mobile Device
The second solution to getting rid of the "Sign in to Wi-Fi network" notification is by forgetting the Wi-Fi network on your device.
The network's information is stored on your device whenever you connect to a Wi-Fi network. This includes IP address, gateway, subnet mask, and DNS server.
This information allows you to automatically connect to the Wi-Fi network next time you're in range. When you forget a Wi-Fi network on your device, the network's information is deleted from your device, and you will have to search the network again when you want to connect.
To forget a Wi-Fi network on an iPhone, go to Settings > Wi-Fi, select the network, and tap Forget This Network.
Forget Network on Your iPhone
On an Android phone, go to Settings > Network & Internet > Wi-Fi, and then long press on the network you want to forget. From the options provided, select "Forget."
Forget Network on an Android Phone (Samsung)
Reboot Your Phone
After you have disabled the Wi-Fi notifications on your phone's Wi-Fi settings, you ought not to be receiving the "Sign in to Wi-Fi notification." However, if you are still receiving the notification, you may need to reboot your phone.
When Android phones have not rebooted for so long, they tend to store redundant information that is not always needed. This may make them not respond appropriately to new Settings.
Rebooting your mobile device will help clear any sludge data, allowing the device to respond better to new settings.
How to Force Reboot Your Samsung Galaxy Phone
Turn Off Captive Portal on Your Router
If you are receiving a "Sign in to Wi-Fi Network" notification from your home router, it's likely because your router has Captive Portal turned on. Captive Portal is a feature that requires users to log in or accept terms before accessing the internet. Many public Wi-Fi networks use Captive Portal to control traffic and reduce the risk of malicious activity.
How Captive Portals Work
However, the captive feature may not be necessary if you are the only Wi-Fi user in your home. If you find this feature annoying, you can disable it on your router.
To turn off the Captive Portal on your router, you will need to log in to your router's web interface. This process will vary depending on your router's make and model. Once you're logged in to your router web interface, look for the Captive Portal or Splash Page settings and disable it.
Use a VPN (Virtual Private Network)
Another way to get around the "Sign in to Wi-Fi network" notification is by using a VPN. A VPN encrypts all of the traffic between your device and the VPN server. This makes it impossible for anyone to see what you're doing online.
Additionally, most VPN providers will give you a new IP address. This can be helpful if you're trying to bypass a Captive Portal that is blocking your device's IP address. A VPN can be helpful if you are blocked from accessing Wi-Fi in public places such as coffee shops, Airports, and libraries.
VPN Explained
Also, a VPN can help you stay secure when using public Wi-Fi.
There are many VPN providers to choose from, and the best one for you will depend on your needs. Some popular VPN providers include NordVPN, ExpressVPN, and TunnelBear.
Install a Connection Optimizer on Your Mobile device
You may sometimes receive weak or unstable signals from your mobile device's Wi-Fi antenna. This can happen for a number of reasons, including interference from other devices or being too far away from the router.
When this happens, your mobile device will disconnect from the Wi-Fi network, which can result in the "Sign in to Wi-Fi network" notification popping up.
One way to of addressing this problem is by installing a connection optimizer on your mobile device. A connection optimizer is a type of software that helps improve the quality of your Wi-Fi connection.
You can download a connection optimizer by going to the Google Play Store and searching for one with the best rating.
A good connection optimizer will streamline the Wi-Fi connection and mitigate possible disconnections.
Frequently Asked Questions
Question: How do I turn off sign-in to Wi-Fi on an Android?
Answer: To disable your Android device's automatic connection to open networks:
Open the Android settings.

Go to Network & Internet > Wi-Fi > Wi-Fi preferences.

Turn off "Connect to public networks."
Question: Why is my Wi-Fi showing a sign-in to the network?
Answer: If you get this notice while trying to access mobile data, it means your phone has chosen a Wi-Fi Connection over a data connection. This might be due to a damaged chip on your phone, or you have set your phone to prioritize a Wi-Fi connection when it's available.
Question: How do I resolve a network sign-in issue?
Answer: Restart your mobile device. This will often fix the problem. If this does not work, please try the following:
Check that you have a strong signal from your network provider.

If you're using a mobile data connection, consider switching to a Wi-Fi connection.

Check that your phone's

APN settings

are configured correctly.

Clear your phone's cache and cookies.
If all the above doesn't solve it, contact your network provider for further assistance.
Question: Why is my Wi-Fi asking for a password again and again?
Answer: If your Wi-Fi network keeps prompting you to enter a password more often than usual, it might be because your phone has chosen a different Wi-Fi network to connect to automatically. To fix this, you can try forgetting the Wi-Fi network and then connecting to it again.
Question: Why can't I connect to my Wi-Fi?
Answer: If you're having trouble connecting your Android phone to Wi-Fi, start by ensuring that Airplane Mode is turned off and that Wi-Fi is enabled on your device. If your phone says it's connected to the network, but nothing will load, try forgetting the network and reconnecting afresh.
Conclusion
Mobile devices are often set to remember Wi-Fi networks they have previously connected to. This feature helps your device to easily connect to a Wi-Fi network it has used before whenever you are in range.
However, if there is more than one Wi-Fi network in range, this notification could be somehow annoying. We hope the strategies proposed in this article have helped you gain more control over your device in regard to Wi-Fi connection.
But if you still cannot disable the "Sign in To Wi-Fi connection" notification on your mobile device, you may want to check with the device's user manual for more information.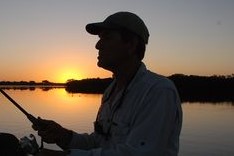 Hey, I'm Jeremy Clifford. I hold a bachelor's degree in information systems, and I'm a certified network specialist. I worked for several internet providers in LA, San Francisco, Sacramento, and Seattle over the past 21 years.
I worked as a customer service operator, field technician, network engineer, and network specialist. During my career in networking, I've come across numerous modems, gateways, routers, and other networking hardware. I've installed network equipment, fixed it, designed and administrated networks, etc.
Networking is my passion, and I'm eager to share everything I know with you. On this website, you can read my modem and router reviews, as well as various how-to guides designed to help you solve your network problems. I want to liberate you from the fear that most users feel when they have to deal with modem and router settings.
My favorite free-time activities are gaming, movie-watching, and cooking. I also enjoy fishing, although I'm not good at it. What I'm good at is annoying David when we are fishing together. Apparently, you're not supposed to talk or laugh while fishing – it scares the fishes.