Your home Wi-Fi network will have issues now and then. You could probably fix the problem by checking and doing it yourself, but sometimes the problem comes from your Internet Service Provider. It could take days before they can send a technician to fix your Wi-Fi. Meantime, you have mounting pressure to watch your TV via your phone. But how to connect a phone to smart TV without Wi-Fi?
There are so many reasons why you would want to connect your smartphone to the TV. For starters, it allows you to stream movies downloaded on your phone to the TV. Or perhaps you want to see your phone's page on the large TV screen. There are many ways to connect your phone to your TV without Wi-Fi. Read on to discover and learn ways to do that easily.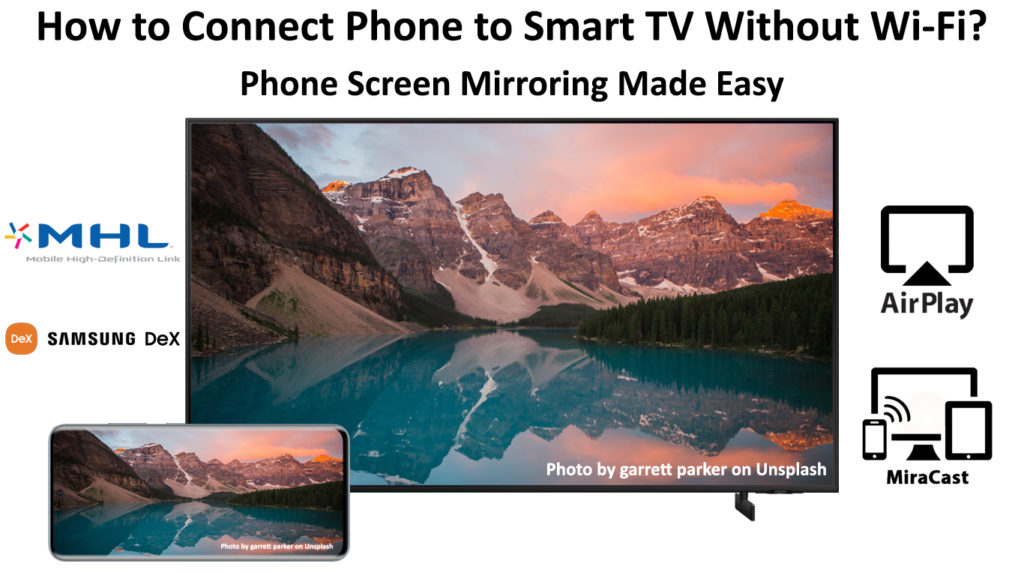 Miracast
To use this method, your smartphone and smart TV must have Miracast built-in features. If not, you cannot link your devices. Anyway, most modern smart devices should have this feature.
You can check if your devices support Miracast, but in general, the following devices should have a Miracast built-in:
Android version 4.2 or later.

Windows version 8.1 or later.
Miracast is a popular feature to screencast items from devices on the big TV screen. Sometimes the name is slightly different, but they all work in the same way. Some other names used for Miracast are:
Screen Mirroring
Display Mirroring
Smart Share
Allshare Cast
Miracast makes it possible to connect without Wi-Fi because it uses similar technology to the Wi-Fi Direct function of your device to transfer signals wirelessly.
Setting up Miracast is a straightforward job – just tap on the Miracast setting on your phone and TV and get started with the pairing.
What if Your TV Doesn't Support Miracast?
No Miracast on your TV? No problem. You can use the device called ScreenBeam Mini2. It supports Miracast technology and can cast media from your Miracast-supported device to any TV. Although your TV has no Miracast capability, you can easily connect it with a Miracast-supported phone or tablet.
Recommended reading: How to Connect Your Phone to a TV That is Not a Smart TV? (Phone Screen Mirroring to a Non-Smart TV)
The ScreenBeam Mini2 is a great device to enhance your entertainment system at home. While it's designed mainly for home use, the wireless device is so tiny that you can carry it with you all the time. All you need is your Android phone and a TV with an HDMI port to cast content wirelessly, making it your perfect partner at home and for leisure/business.
Introducing ScreeBeam Mini2
Here's how to set up Miracast via ScreenBeam Mini2 device:
Connect the ScreenBeam Mini2 by plugging it into your HDTV's HDMI port.

Go to the "screen mirroring" feature on your phone or tab and choose the TV from there.

Look for the "ready to connect" prompt and click on it to start casting.
That's it – and you can choose your favorite content like shows, movies, or play games on your big-screen TV.
How to Set Up ScreenBeam Mini2
Samsung DeX
If you're using a Samsung mobile device and you have the Samsung DeX feature, you can use it to cast media on your big-screen smart TV. It's a casting feature embedded in numerous Samsung devices like smartphones and tablets. One of its best features is the ability to turn the screen to "desktop mode."
Follow these steps to start using the Samsung DeX:
Set up Miracast on your smart TV.
Select the device applicable for the connection – "phone" or "tablet" etc.
On your Samsung phone, tap on the Samsung DeX.
Scroll down until you can see "DeX" and tap on it.
From the list of devices, choose your desired smart TV.
Look at your TV screen, and you should see the Samsung DeX logo to show you're connected and ready to start.
Introducing Samsung Dex
AirPlay
If you fancy Apple and use one of the Apple smart devices, then you can use AirPlay like how you use Samsung DeX on Samsung devices. The best thing is you can also use AirPlay on non-Apple devices, but you need Wi-Fi. Connecting AirPlay without Wi-Fi can only apply to Apple devices (Peer-to-peer AirPlay).
That said, your device needs to fulfill the following requirements to make it work:
Apple TV HD that has tvOS 9.0 or newer.
Apple TV 4K that has tvOS 11.0 or newer.
iPhone for year model 2012 or newer.
Do the following steps to start Peer-to-Peer AirPlay:
Do not connect iPhone and Apple TV to any Wi-Fi, but have Wi-Fi enabled on both devices. If needed, forget the network you're connected to.
Switch on Bluetooth on both devices to link your iPhone to your Apple TV.
On your iPhone, tap on AirPlay.
From the list, select your Apple TV.
Restart one or both devices if you cannot find the Apple TV on the list.
How to Use AirPlay to Mirror Your iPhone Screen to Apple TV Without Wi-Fi
Mobile High-Definition Link (MHL)
Mobile High-Definition Link (MHL) is an interface that allows smartphones and other mobile devices to connect to HDTVs and projectors. You can only connect MHL using a cable or an adapter to link your phone or other mobile devices to your HDTV.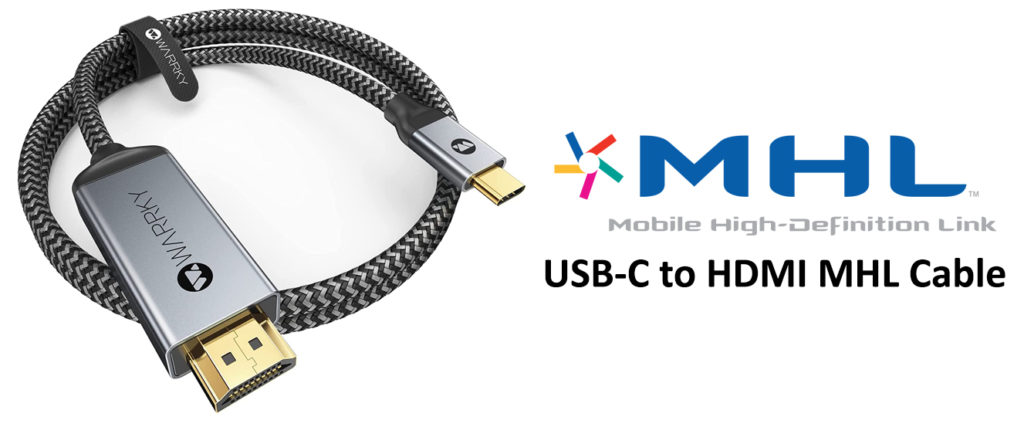 MHL is available on multiple phone brands like:
Follow these steps to set up an MHL connection:
Connect the adapter's USB cable by plugging it into the charging port of your phone.
Connect the adapter's HDMI cable by plugging it into the HDMI port of your TV.
Plug the adapter's USB cable into a power source.
On your TV, change the input to the appropriate HDMI port.
After a few seconds, your phone screen will start to cast on your TV.
iPhone's Lightning-to-HDMI Adapter
If you use an iPhone, you can connect to the TV using an HDMI cable. However, it would be best if you had a Lightning-to-HDMI adapter to connect since there are no USB ports on iPhones. In addition, you also have to find other USB and HDMI cables separately in order to have a complete setup.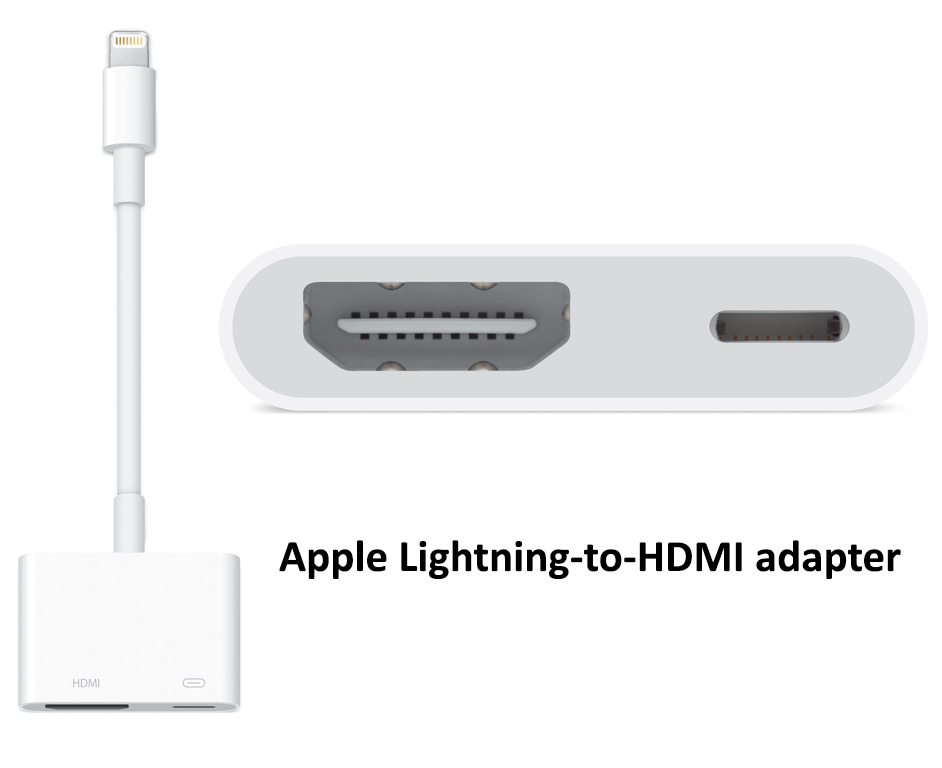 Follow these steps to connect your iPhone and TV via a Lightning-to-HDMI cable:
On your iPhone, plug the

adapter's lightning cable into the charging port of your iPhone.
Connect the additional HDMI cable by plugging it into the adapter port and the HDMI port of your TV.
Connect the USB to the USB port of the adapter. Then connect it to a power source.
On your TV, change the input to "HDMI."
After a few seconds, your phone screen will start to cast on your TV.
Using Lightning-to-HDMI Adapter to Mirror Your iPhone to Your TV
Final Thoughts
If you have no Wi-Fi for some reason and want to cast your phone to a TV, you can still do that easily. We have shown several ways to connect phones to smart TV without Wi-Fi. You can choose one of the methods depending on what phone or device you're using.
Different Ways to Connect Your Phone to TV Without Wi-Fi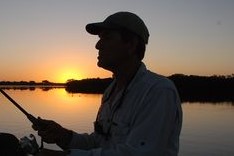 Hey, I'm Jeremy Clifford. I hold a bachelor's degree in information systems, and I'm a certified network specialist. I worked for several internet providers in LA, San Francisco, Sacramento, and Seattle over the past 21 years.
I worked as a customer service operator, field technician, network engineer, and network specialist. During my career in networking, I've come across numerous modems, gateways, routers, and other networking hardware. I've installed network equipment, fixed it, designed and administrated networks, etc.
Networking is my passion, and I'm eager to share everything I know with you. On this website, you can read my modem and router reviews, as well as various how-to guides designed to help you solve your network problems. I want to liberate you from the fear that most users feel when they have to deal with modem and router settings.
My favorite free-time activities are gaming, movie-watching, and cooking. I also enjoy fishing, although I'm not good at it. What I'm good at is annoying David when we are fishing together. Apparently, you're not supposed to talk or laugh while fishing – it scares the fishes.