Virgin Media is a UK-based company (headquartered in Green Park, Reading) that provides telephony, internet, and television services. It was founded in 2006 and currently has close to 5 million users.
While Virgin Media Hubs deliver pretty great and reliable performance, you can't expect them to be perfect forever. Occasionally, you will experience some connectivity issue and you may even have to reset your Virgin Media Hub. In this article, we will give you step-by-step instructions on how to do that. We will also try to explain what kind of change a reset procedure brings.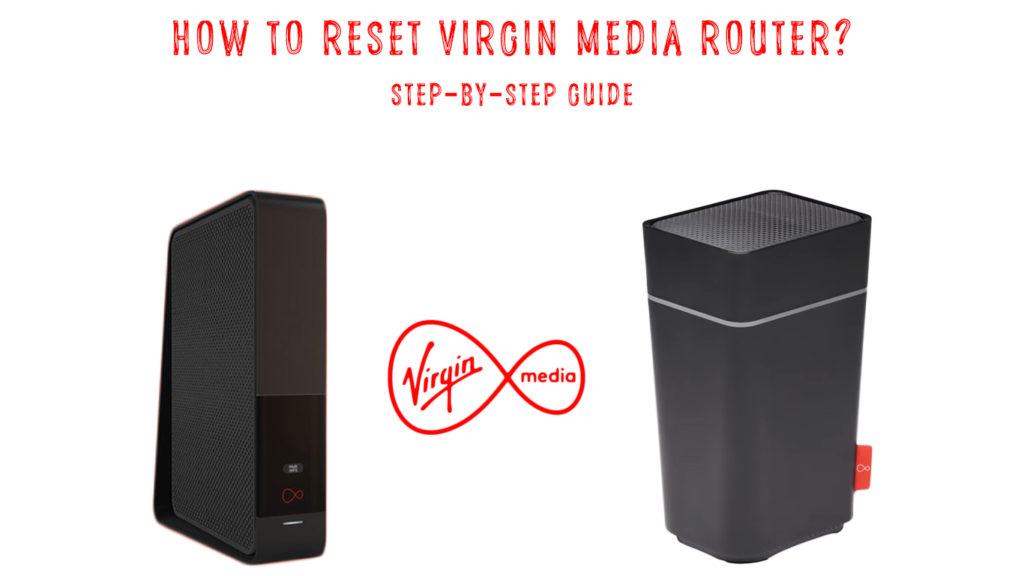 Router Reset – What Is It and Why Do You Need It?
The term "reset" is widely used, just like the procedure itself. It doesn't apply to routers only. You can reset all kinds of devices including modems, computers, phones, speakers, etc. Basically, any kind of electronics.
When you reset a router, you delete all the previously entered settings. All the factory settings will be restored. Simply put, this action will make your router have the same settings as when it was just purchased. It's a fresh start. 
After resetting, to reconnect to Wi-Fi, you'll have to use your router's default Wi-Fi password. Also, if you want to log into your router, you will have to use the default username and password. All the info is usually located on the bottom or back of the router. You will see a sticker with all default credentials and other information about the router. 
People often use terms hard reset, factory reset, or master reset – they all represent the same thing. 
Reasons to Reset Your Router
The most common reason for resetting the router is a lost/forgotten password (whether router password or Wi-Fi password). It is very useful to know that in such a situation, resetting the router solves the problem allowing you to reconnect using the default password. 
Also, when you can't connect to Wi-Fi or can connect to Wi-Fi but can't get internet access, resetting your router is one of the viable solutions. There's a good chance that resetting a router will fix those issues.
Is There a Difference Between Reset and Restart
When discussing the reset procedure, we should probably mention the restart and make a short comparison. Now you may be confused because you thought those two terms were synonyms, but they are not.
They may sound similar, but there's not so subtle difference between them. Only by knowing and understanding that difference, you will know when to apply reset and when to apply restart. And what to try first.
Restarting, just like resetting, is a straightforward process. You don't need any previous experience to do it.
A router restart needs to be done when your internet connection is unstable or when it's running slow. In fact, a router restart is recommended whenever you experience any type of connectivity issue. To restart your Virgin Media router, you can just press the power button on the back, wait a minute or so, and turn it on again. Or, you can unplug the power cable, wait, and plug it back in.
After you restart your Virgin Media Hub, the router's settings (Wi-Fi password, network name, etc.) will remain unchanged. The only change you should notice after the restart is that your internet connection is back again and works as it's supposed to. 
Our recommendation is to restart your network hardware even when everything is working fine. Of course, you should not exaggerate – once a month is enough.
Other terms used to describe the restart procedure are soft reset and power cycle.
Hopefully, now you have a full understanding of the two procedures and can make a difference between them. Here's a short recap:
Reset – restores all settings to factory defaults. Every single setting you have ever changed or adjusted including Wi-Fi password and network name, assigned static IP addresses, blocked devices, blocked websites, priority settings – they will all be erased.
Restart (switching off/on) – refreshes the operating system and doesn't change or delete any settings.
How to Reset Virgin Media Router?
After explaining the most important facts about the reset, we will show you two ways to reset Virgin Media Router:
METHOD 1
This way is most commonly used to reset routers and can be applied to almost any router regardless of its manufacturer. It is done with the help of a reset button. 
Follow these steps to do it:
Find the reset button. This is a tiny button on the back of your Virgin Media router. It's hidden inside a pinhole, so you can't press it by accident while handling your router.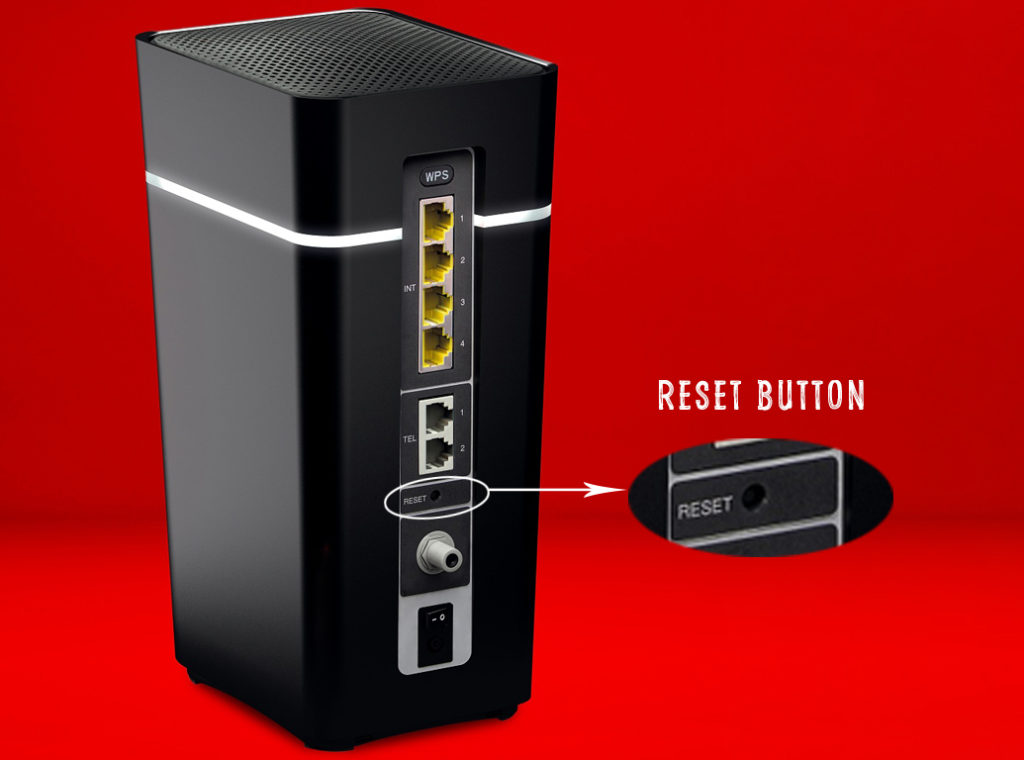 Keeping in mind that it is retracted, you need a tiny sharp item to press the button.

Once you have located the button, use that item (it can be a paper clip or a pen tip or anything similar), and press the button. Hold it for at least 30 seconds, and then release it.

The router will restart.
This is the whole process. Wait for the router to boot up, and you should be able to use your Wi-Fi again. You will, as explained earlier, have to con the default Wi-Fi password to reconnect. Your network name will also be changed to its default name. Just look for that sticker on the back or the bottom of your hub, and you will see your network's default name and password.
METHOD 2
You can also reset the router through the web user interface. In order to use this method, it is necessary to know the IP address of the router – you can usually find it on the router's label. If it is not there, type IPCONFIG in the command prompt on your Windows machine and press Enter. You will see a sequence of four numbers next to the default gateway (something like 192.168.0.1). This sequence is your default IP address. Once you find the IP address of your router, do the following steps:
Type it into your browser and press Enter.

Log in to the router (

If you do not know the router password, it is not possible to reset it using this method).

Select the System Tool menu, and then you need to click on the Factory Default option. Depending on the hub you use, you will see a slightly different interface and will have to look for different options. For example, if you have the HUB 3, you should click on

Admin

and then select

Reload and Reboot

. When the new window opens, scroll down and click on

Restore to Factory Defaults

. Before resetting your router, you can (if you want) make a backup of your current configuration settings so you don't have to reconfigure the HUB once the reset is done – you can just load the file and all your settings will be restored.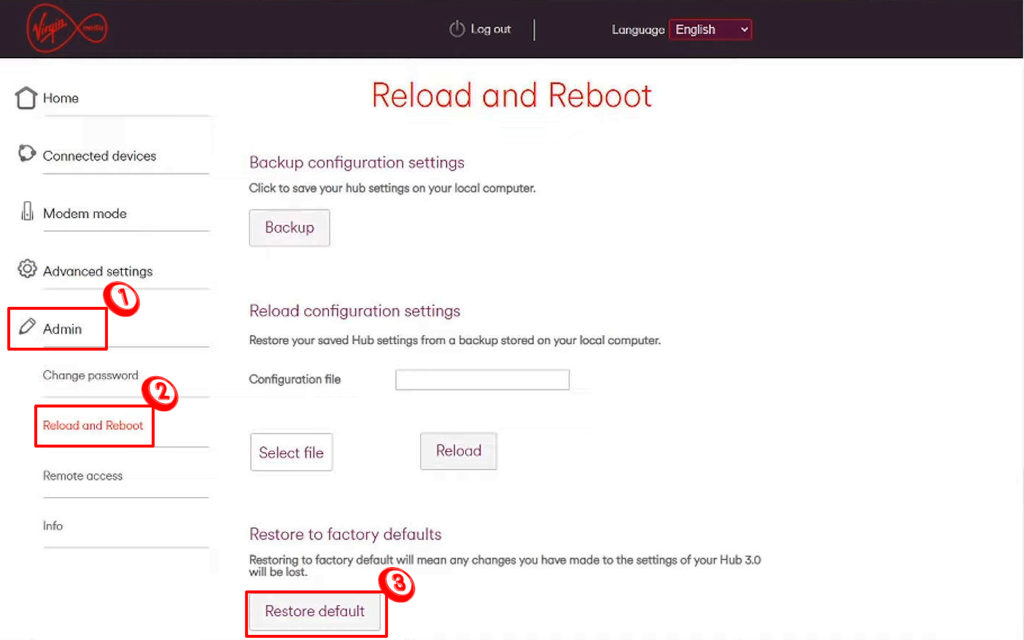 Conclusion
While resetting your router is a useful procedure, it should never be the first thing you do when you notice that there's an issue with your connection. Resetting your Virgin Media router should be your last option – do it if nothing else works. Have in mind that, unless you make a backup file, all the settings will be erased and you will have to configure them all over again.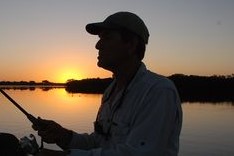 Hey, I'm Jeremy Clifford. I hold a bachelor's degree in information systems, and I'm a certified network specialist. I worked for several internet providers in LA, San Francisco, Sacramento, and Seattle over the past 21 years.
I worked as a customer service operator, field technician, network engineer, and network specialist. During my career in networking, I've come across numerous modems, gateways, routers, and other networking hardware. I've installed network equipment, fixed it, designed and administrated networks, etc.
Networking is my passion, and I'm eager to share everything I know with you. On this website, you can read my modem and router reviews, as well as various how-to guides designed to help you solve your network problems. I want to liberate you from the fear that most users feel when they have to deal with modem and router settings.
My favorite free-time activities are gaming, movie-watching, and cooking. I also enjoy fishing, although I'm not good at it. What I'm good at is annoying David when we are fishing together. Apparently, you're not supposed to talk or laugh while fishing – it scares the fishes.