If you're thinking about canceling your AT&T internet services, we have a must-read article for you! Today, you'll learn all about discontinuing your AT&T internet, as well as all of the possible charges and fees you may face when you submit your request.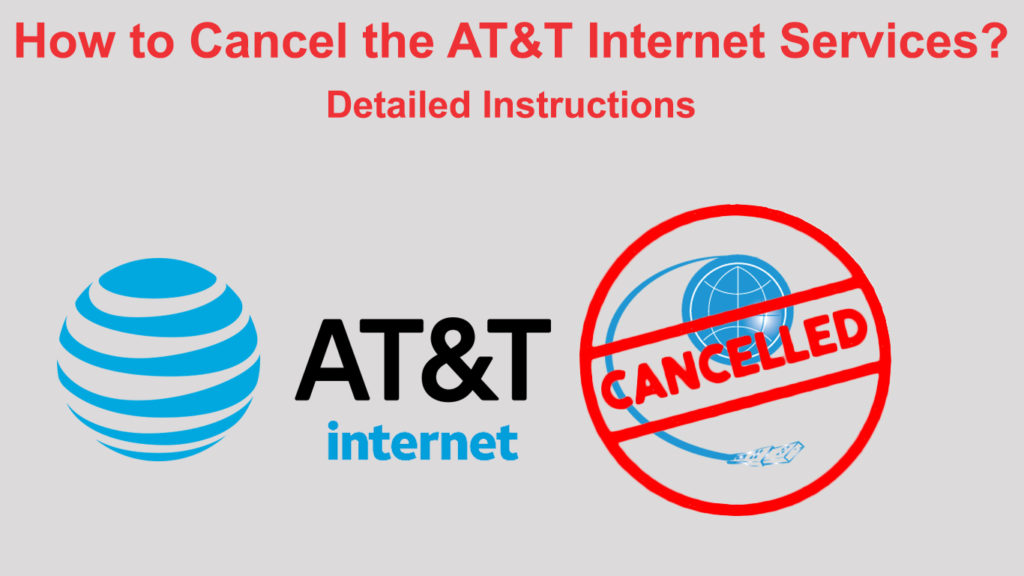 How to Cancel Your AT&T Internet
You can cancel your AT&T internet services at any time by contacting the company's customer support. You should make sure that your personal identification number, or PIN, is written somewhere near you, as you'll most certainly be asked to provide it for easier identification.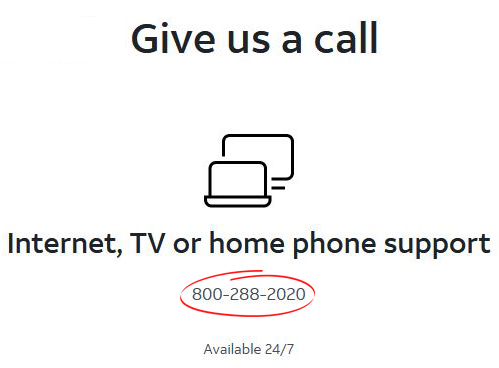 In case you want the company to process your request immediately, it's best to contact AT&T during regular working hours. If you don't mind having your request processed the next day, you can contact the company at any time.
Alternatively, you can submit an online request. To see all of the ways you can contact AT&T, you can simply visit the official AT&T website and find the Support section.
After you reach a customer service representative, you can briefly explain your reasoning behind the cancelation. The representative may ask for more information and even offer you some options to avoid losing you as a customer.
You don't have to go in-depth when it comes to your reasoning, especially if you are certain that you won't be using the AT&T internet services anymore.
In any other case, it might be wise to provide a more thorough explanation. That's because the representative can offer you discounts, perks, or payment plans that could improve your experience with AT&T. What's more, they may offer you to put your services on pause. You can explore all of your options during this call. If you decide to terminate your internet services in the end, you can ask the representative to submit the cancelation request on your behalf.
What to Keep in Mind When Canceling the AT&T Internet
There are a few additional charges you may face, depending on the type of contract you have with the company. For instance, customers with bundles and combined bills may have some unexpected fees. Moreover, AT&T has an Early Termination Fee in place for users who end their contracts before the minimum period is over.
Bundles and Combined Bills
In case you've signed up for a bundle of AT&T services, the price of the rest of your services that you haven't canceled will probably increase. That's because you are not subject to a bundled discount.
In addition, if your internet services are part of a combined bill, every other service in that combination will continue to be billed. Therefore, you will have to cancel everything separately in case you want to stop using AT&T services overall.
The AT&T Early Termination Fee
Customers who wish to cancel their AT&T internet services before the minimum period in their contract is over will be subject to an Early Termination Fee. This fee keeps decreasing during the AT&T services use. Therefore, the later the cancelation request is submitted, the lower the Early Termination Fee.
In most cases, your starting ETF charge for a term commitment of 12 months will be $180. It will be reduced by $15 for each month of usage before reaching zero once the 12 months have passed. That makes it much easier to calculate the final charges. If, for instance, you've been using your AT&T services for ten months, your fee will sit at $45.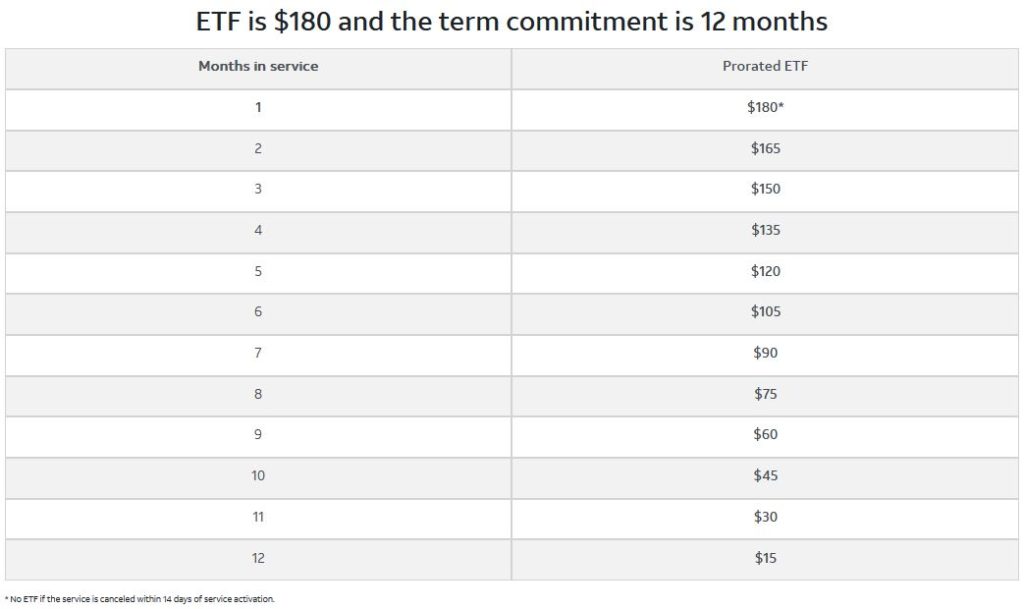 Example of AT&T ETF (Source – AT&T)
However, you should keep in mind that the starting fee depends on how long your term commitment is as well as the services you signed up for. Thus, you will need to calculate it based on your own account. If you are not sure about your ETF and additional charges, you can always contact AT&T customer support to check.
What Happens If You Want to Cancel Your AT&T Internet Services Within the First 14 Days
AT&T has exceptions in place for customers who wish to terminate their contract within the first two weeks of using the internet services. If you want to cancel your internet after 14 days, you can do that without paying an Early Termination Fee.
However, you will need to pay any additional charges and fees that were the result of the cancelation. In addition, you will have to return any equipment you have been renting from the company.
Returning the AT&T Equipment
Unless you have written confirmation from the company that you don't have to return the AT&T equipment, you will have 21 days to ship everything back to the service provider. This rule does not include wall-mounted equipment. You are not obligated to return any wall-mounted equipment or its power cord.
In case you fail to return the equipment, the company will charge you a $150 non-return fee. If you manage to return it within six months, the non-return fee will automatically be refunded to you. Customers who return damaged equipment will also have to pay damages fees, which are non-refundable.
AT&T does not allow customers to bring the equipment to the nearest AT&T store. On the upside, you can send the gadgets back through FedEx and UPS for free.
Once you pack everything up, you will need to go to the nearest FedEx or UPS store and ship it to AT&T. You should write your account number on the packaging. It's wise to keep the receipt from FedEx or UPS, just in case.
In Conclusion
If you really want to cancel your AT&T internet services, you will easily be able to do that by following our simple steps. In case you are not certain about that decision, we advise you to consider other options. That's because the company offers other possibilities that might improve your experience with its services. For instance, you can temporarily suspend your internet or transfer the billing responsibility to someone else. In addition, you will be able to change your service at any time or move it to a different address if AT&T offers services there.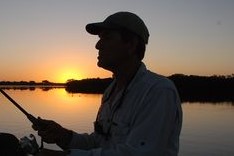 Hey, I'm Jeremy Clifford. I hold a bachelor's degree in information systems, and I'm a certified network specialist. I worked for several internet providers in LA, San Francisco, Sacramento, and Seattle over the past 21 years.
I worked as a customer service operator, field technician, network engineer, and network specialist. During my career in networking, I've come across numerous modems, gateways, routers, and other networking hardware. I've installed network equipment, fixed it, designed and administrated networks, etc.
Networking is my passion, and I'm eager to share everything I know with you. On this website, you can read my modem and router reviews, as well as various how-to guides designed to help you solve your network problems. I want to liberate you from the fear that most users feel when they have to deal with modem and router settings.
My favorite free-time activities are gaming, movie-watching, and cooking. I also enjoy fishing, although I'm not good at it. What I'm good at is annoying David when we are fishing together. Apparently, you're not supposed to talk or laugh while fishing – it scares the fishes.